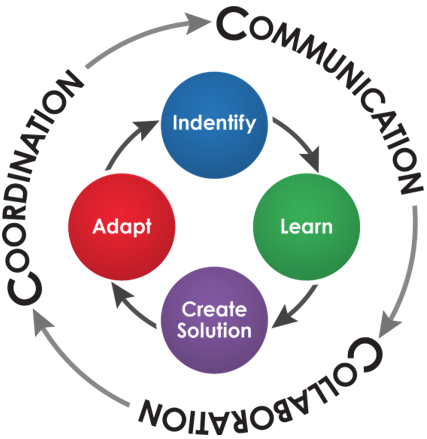 Pro Products Web Development has a proven process for success that has honesty and integrity at its foundation.
With all of our customer partners, we identify, learn, create solutions, and adapt. The key to making this work is to follow the three C's: Communicate, Collaborate, and Coordinate.
Once we have identified potential solutions, we collaborate with our customer partners to create the best solution to the issue. After a solution is created and deployed, we ensure the chosen solution works best, and make adaptations (as required) to continue to improve the process. PPWD also uses each solution as a learning opportunity for our team, and as appropriate, use that knowledge to support all of our customer partners.
Continued Communication, Collaboration, and Coordination between our team and our customer partners is what sets us apart from other development firms. This process has proven to be successful on many large enterprise projects and has helped make us a leader in the development community. We use many tools to keep our three C's working for a project.
How do we Communicate, Collaborate, and Coordinate?
PPWD uses many tools to work and communicate with its customer partners. We use the industry standard Jira project management tool to give full project access to our customers. Jira allows our customer partners to communicate directly with our developers and project managers on the specific tasks and requirements of any project. As an Agile company that uses Scrum to communicate internally, our team is always up to date on all project requirements. We set up regular meetings with customer partners to ensure we are always coordinating and collaborating.
We want our customer partners to get to know the great people that they are working with. Our office doors are always open to them to stop by and visit, and our phone lines are always answered. We maintain multiple lines of communication (Jira, Phone, In Person, Skype, Slack, email) to make sure we remain in sync to accomplish our partner's goals.
Contact us today to learn for yourself how our proven process for success and the three C's can help you and your project cross the finish line to successful completion.