Lhasa OMS SEO
Achieving Organic Growth and Dominating the Market: A Digital Marketing Case Study for Lhasa OMS
Introduction:
Lhasa OMS, a renowned supplier of acupuncture supplies, partnered with PPWD, a leading Digital Marketing Agency, to strengthen their online presence and drive growth in the competitive acupuncture industry. This case study showcases the strategies employed by PPWD to achieve remarkable results, including a substantial increase in organic traffic, a surge in new users, and the attainment of the number one position for acupuncture needles.
Background:
Lhasa OMS has been a trusted provider of acupuncture products, catering to healthcare professionals and practitioners worldwide. Despite their industry expertise, they faced challenges in effectively leveraging their online platforms to expand their customer base and establish a dominant market position.
Objectives:
Working in close collaboration with Lhasa OMS, PPWD aimed to achieve the following objectives:
Increase organic traffic by implementing effective SEO strategies and optimizing website content.
Generate a significant increase in new users, targeting potential customers interested in acupuncture supplies.
Establish Lhasa OMS as the leading supplier of acupuncture needles, securing the number one position in relevant search engine rankings.
PPWD Strategies and Implementation:
PPWD Conducted thorough keyword research to identify high-potential search terms related to acupuncture supplies. Optimized website structure, meta tags, and URLs to improve search engine visibility and user experience. Created high-quality, keyword-rich content, including product descriptions, to enhance organic rankings.
Results:
Organic Traffic:

Achieved an impressive year-to-date increase of 34.34% in organic traffic compared to the previous year. Successfully improved search engine visibility and attracted a larger volume of organic visitors to the website.

New User Acquisition:

Witnessed a remarkable growth rate of 36.80% in new users, reflecting the effectiveness of the implemented strategies. Expanded the customer base and capitalized on the increased online visibility to attract new prospects.

Dominating the Market:

Through strategic SEO implementation, Lhasa OMS attained the coveted number one position for acupuncture needles in search engine rankings. Established brand authority and positioned Lhasa OMS as the go-to supplier for acupuncture needles.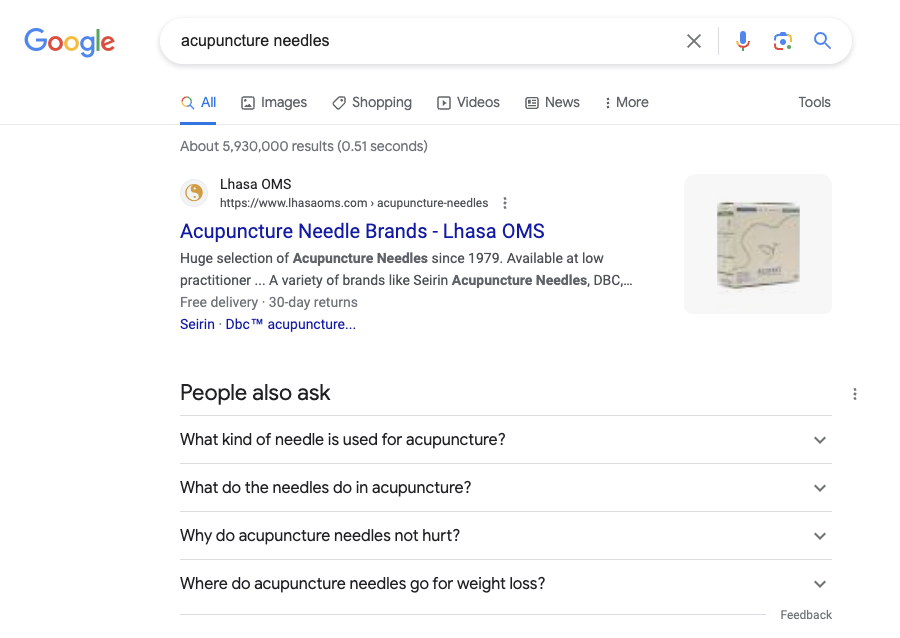 In conclusion, the collaborative efforts between Lhasa OMS and PPWD resulted in substantial organic traffic growth, an influx of new users, and the achievement of the number one position for acupuncture needles. By implementing strategic digital marketing tactics, Lhasa OMS successfully enhanced their online presence, gained market dominance, and solidified their reputation as a leading supplier in the acupuncture industry.